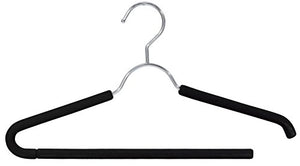 Closet Spice Chrome Suit Hanger, Open Ended with Easy to Slide and Black Friction Padded Foam - Set of 6, Black
Regular price $22.99 Sale
NON-SHED THICK FOAM: Foam Padded Suit Hanger with Open End Bar
CREASE & BUMP FREE: Non-Slip foam padding to keep suits creaseless
SLIDE THEM AWAY: Open ended bar can be used to hang skirt, trousers, shorts or jeans
STRONG & DURABLE: Elegant chrome finish suit hanger.
FITS ALL CLOSET: Product Dimensions: 15.7" L x 8" H x 0.5" T | Set of 6 pcs.
Maximize your closet space with the dual purpose elegant chrome finish suit hanger. Designed for the professional women out there, to hang their skirt-suits. Keep your closet rod clutter free by hanging up a shirt, blouse or coat along with your trousers or skirt on a single hanger. The non-slip foam grip bars keep your garments in place neatly hung and not on your closet floor. Specially designed for multi usage in your closet.
Closet Spice Amazon ASIN B0723FMJKT Home & Kitchen Storage & Organization, Clothing & Closet Storage, Clothes Hangers, Suit Hangers
Liquid error (sections/product-template line 203): Could not find asset snippets/spreadr-reviews.liquid