Redesigned small SUV packs more features and innovations, but is it enough to stand out? By Jeff S. Bartlett
The redesigned 2023 Kia Sportage grew in size and features, with a significant styling change and a longer roster of available equipment. And the portfolio expanded, with regular gasoline, hybrid, and soon plug-in hybrid versions. 
There is no longer a more powerful turbo version. Instead, there are three new adventure-focused trim levels (X-Line, X-Pro, and X-Pro Prestige) joining the familiar LX, EX, and SX, plus the fancier SX Prestige.
If you're a Consumer Reports member, our initial expert assessment of the Kia Sportage is available to you below. Once we complete 2,000 break-in miles, we'll put the Kia Sportage through more than 50 tests at the CR Auto Test Center, including empirical measurements of acceleration, braking, handling, car-seat fit, and usability. CR members will have access to the full road-test results as soon as they're available.
If you haven't signed up to be a member yet, click below and become a member to access this full article and all our exclusive ratings and reviews for each vehicle we buy and test. Joining also gives you full access to exclusive ratings for the other products our experts evaluate in several categories, including electronics and home appliances.
​Sign up for CR's Cars email newsletter to be notified when we post our latest road-test results.
What bought: 2023 Kia Sportage EX AWD
Powertrain: 187-hp, 2.5-liter four-cylinder; 8-speed automatic transmission; AWD 
MSRP: $29,790
Options: Floor mats, $155; wheel locks, $60
Destination fee: $1,255 
Total cost: $31,260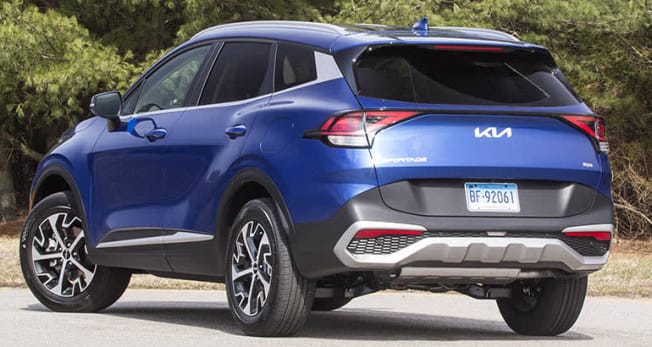 The raked glass on the liftgate may limit the ability to tote large, boxy items.
Photo: John Powers/Consumer Reports
CR's Take
It appears that Kia sized up the competition and made a concerted effort to seriously challenge the extremely popular Toyota RAV4, Honda CR-V, and Nissan Rogue.
The Sportage makes a strong showroom impression, with sharp looks, dual 12.3-inch displays for the gauges and infotainment (on most trims), and some nice interior details. 
Behind the wheel, the Sportage is competent—even pleasant—with decent handling and an improved ride. But it doesn't shine as bright as the related Hyundai Tucson. Frankly, that may be perfectly fine for this segment, but as testers, we longed for some dynamic element to embrace, such as robust power delivery. 
2023 Kia Sportage Hybrid
Photo: Kia
What We Like
Access: Getting in and out is simple, thanks to large door openings, narrow sills, and hip-height seats. Even the back seat is easy to access. Most drivers found that they transitioned into the seat very naturally, whereas some SUVs require a slight step up to enter. 
Roomy cabin: Staffers of various sizes commented on the relatively roomy accommodations. It feels like more elbow room than in the sister model Hyundai Tucson, aided by the different dash and center console design. The Sportage is a few inches larger in overall length and wheelbase compared with the RAV4, CR-V, and Rogue.
Rear seat: The best seats in this house may be in the second row. Universally, our panel found that the back seat had generous head- and legroom. The seatback allows for a comfortable posture, and the seat base provides good thigh support. An easy-to-reach lever allows the seatback angle to be raked as needed. Storage is a bit limited, with angled bottle holders on the doors and two cup holders in the center armrest, and that's about it. A USB charge port on each front seatback is nice. Behind the front head restraints is a coat hanger. It would be tempting to use it to hold a tablet when parked, especially with the handy USB port, but definitely don't drive with an iPad perched there, unsecured. 
Cargo space: Lifting the hatch exposes an extremely wide opening to the rear cargo space. Adding to the functionality is a fairly low load floor. There is more storage space than the exterior size suggests, but the sloping rear design limits the ability to transport some large, boxy items. The 12-volt power point is a nice touch, as that can be handy for a powered cooler or assorted camping accessories. Also, there is a manual seat release on each side to conveniently tilt the spring-loaded second row forward. Front storage is better than in some small SUVs, with configurable cup holders, large door pockets, and a generous center armrest bin. 
Handling: The Sportage feels fairly nimble for the class, with good body control. The steering provides some welcomed feedback in turns. In general, the team found the overall handling to be quite capable but short of living up to the "sport" in the model's name. 
Value: Following brand tradition, the Sportage comes across as a strong value, with numerous upscale features available that are seldom seen in the class, and if so, at much higher prices. The large, dual-screen infotainment system is a great example. The screens are designed to look as one by placing them under a single panel. And Kia even went so far as to put a slight bend between them to give the impression that they are curved. While that design is spreading through Kia models now, such a megascale curved display is more often associated with new BMW and Mercedes-Benz models, and the Cadillac Escalade. Features like the heated steering wheel, wireless phone charging mat, and navigation are nice treats on a low trim level. (The EX we bought is just the second trim in a seven trim lineup.) We do wish our model had a power liftgate, which is standard on the similarly priced Honda CR-V EX-L. One needs to upgrade to the third trim X-Line AWD for that to become available.
What We Don't Like
Powertrain: The powertrain strikes us as . . . lackluster. The output from the 2.5-liter four-cylinder engine is respectable at 187 hp, but the delivery is neither smooth nor consistent. The Sportage is jumpy from a standstill, with a busy engine that provides lackluster acceleration. The eight-speed automatic transmission can have delayed response when downshifting, and gear changes are not particularly smooth. Just like the Hyundai Tucson with the same setup, the powertrain stands out among the few weaknesses in this otherwise competent vehicle. 
No adaptive cruise control: We appreciate that the base Sportage comes with many driver assistance features, like forward collision warning, automatic emergency braking, lane keeping assist, lane departure warning, and a driver attention warning. But we miss adaptive cruise control, a convenience feature that is commonly bundled with such other equipment. To get ACC, buyers need to move up to the fourth trim level, the SX. 
Tachometer: Monitoring the engine rpms really isn't a priority with a small SUV, but with the Sportage, the tach is prominent in the instrument panel. Rather than a conventional dial that uses an analog arm to indicate how many revolutions the engine is cranking at per minute, it uses a two-digit numerical display. So for 1,500 rpm, it shows just 1.5 without any scale for reference. It is distracting and requires a bit of mental processing to determine what the figure translates to and the information it is meant to impart. Ultimately, the large numbers just draw attention to how hard the engine is working. 
The displays make quite an impression, appearing as a single, massive screen.
Photo: John Powers/Consumer Reports
What We'll Keep an Eye On
Controls: Kias once were the paragon of control simplicity, but the latest models showcase innovations over conveniences. Like the EV6, the Sportage makes clever use of a slender horizontal touch screen below the primary display for climate and basic infotainment controls. Rather than traditional push buttons for each function, this display changes available functions depending on mode. To toggle between climate and audio controls requires touching a specific spot—not easy to do while driving, in part because of how low it is. If you switch to climate controls, the hard-to-see volume knob becomes a temperature dial. If you wish to change the volume later, or mute the audio, you need to change back to audio mode or remember to use the steering wheel controls. This is a neat showoff feature, but it isn't helpful. Likewise, the large infotainment screen looks dazzling, but from the home screen, you need to swipe to access functions, meaning it can take two or three steps to perform common tasks. At least you can reorganize the onscreen icons. 
Front seat comfort: The front seats look inviting, and most drivers found them to be comfortable. Key to this is the adjustments; tilt and lumbar controls enable the seat to be tailored to the driver. A couple of testers found the upper torso section to be a bit narrow, while others expressed concern about the thigh support. 
Ride: The suspension does a decent job of absorbing rough surfaces, although it does skew a bit firm. On some roads, we appreciated the controlled motions, but on others, we noted some rather stiff impacts. 
Cabin presentation: It is a visually interesting cabin, with a massive, monolithic screen disrupting a collection of geometric shapes and chrome trim around the dash vents. Some elements lend an upscale feel, including the soft-touch surfaces, but overall there are a lot of lines and trim bits. General fit and finish is decent. 
Safety and Driver Assistance Systems
Each Sportage comes with forward collision warning, automatic emergency braking with pedestrian and cyclist detection, intermittent and sustained lane keeping assistance, automatic high beams, driver attention monitoring system, rear occupant reminder, and rear parking obstruction warning.
The optional features read like a brochure from a prestige automaker, with such offerings as blind spot monitor (shows video feed of adjacent roadway in the instrument cluster when signaling), blind spot warning and collision avoidance, adaptive cruise control, rear cross traffic warning and rear automatic braking, and forward parking obstacle warning.
Plus, it can provide speed limit warnings, and cruise control adjustment, based on GPS navigation information and a forward camera. Like other Kias (and Hyundais), the Sportage is available with a feature that can warn if the SUV senses a vehicle or bicycle approaching from behind as a passenger attempts to open a door and exit into traffic. 
Consumer Reports is an independent, nonprofit organization that works side by side with consumers to create a fairer, safer, and healthier world. CR does not endorse products or services, and does not accept advertising. Copyright © 2022, Consumer Reports, Inc.